http://www.apple.com/trailers/wb/thewickerman/trailer1/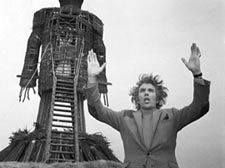 I discovered the original Wicker Man about 5 years ago and fell in love with its weird, campy, 70s goodness. I found a new VHS copy in the dollar bin of some store and fell in love immediately.
It seems these days, that Hollywood has no originality. Every year there's a remake of this movie or that movie and generally with very crappy results. It seems to me that when Hollywood tries to make "modern adaptations" things generally seem to fall apart. I have no hope for this film after viewing the trailer... none.
(excerpt from http://www.steve-p.org/wm/)
The Wicker Man began life in 1972 when actor Christopher Lee; Peter Snell, head of film company British Lion; and writer Anthony Shaffer formed a casual consortium and started to discuss the possibility of working on a movie project of mutual interest. Shaffer had purchased a 1967 book called Ritual by David Pinner with the idea of developing a screenplay. Eventually - even though each member of the consortium had chipped in £5000 for the rights to make the book into a movie - it was realised that the book simply wasn't good enough to be turned into a worthwhile production.
to read more... go to the above link
more Wicker Man links:
http://www.nuada98.fsnet.co.uk/nuada%203/
http://www.scotlandthemovie.com/movies/fwickerman.html
http://www.garycarpenter.net/archive/wicker.htm
the new Wicker Man movie site:
http://thewickermanmovie.warnerbros.com/